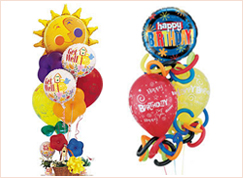 Treated with Hi-Float to extend float time, our bouquets can be custom designed and delivered the same day!
Personalize your bouquet with music, sound effects, or your own personal message via an Anagram Sing-A-Tune®.
Whether you want to say "Thank You", "Happy Birthday", or just let someone know you care, say it with a Balloonatics! custom balloon bouquet.
Birthdays/Anniversaries/Etc.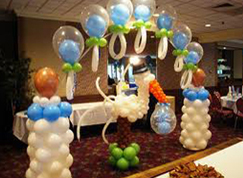 Whether your event is intimate or
large-scale, Balloonatics! is ready to
create your dream event – from baby
showers, to birthday parties, to
graduations, to anniversary celebrations.
Weddings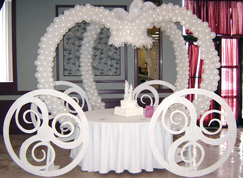 Make your wedding day unforgettable
with lighted dance floor decor, custom
centerpieces, personalized entry ways,
and so much more. View our wedding gallery
to see how we can make your wedding
dreams come true.
Bar/Bat Mitzvah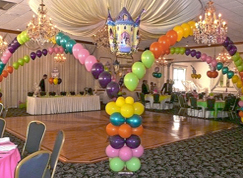 The Balloonatics! team are experts at
creating theme centerpieces, specialty
balloon bouquets, and dance floor and
stage decor. Whatever the theme,
Balloonatics! is committed to making
your child's big day truly memorable.

Large Scale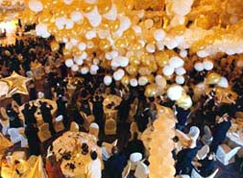 Make your next corporate gathering
an event to remember! In addition to
arches, centerpieces, and other creative
decor, Balloonatics! also offers balloon
drops, helium balloon releases, confetti
cannons, exploding gum ball balloons,
and more!
Informal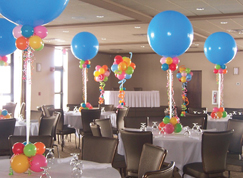 Let our experts add a little flare to your
next training seminar, sales meeting, or
corporate luncheon with our custom
centerpieces and displays. Who says a
corporate meeting can't be fun?
Promotional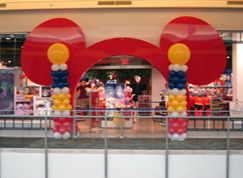 Whether your promotional event is
indoors or out, our team has the skills
and tools to make all eyes turn towards
you. This includes Cloudbuster balloons,
which are designed to hold helium for an
extended period of time, even in the outdoors.